You could save up to $350* on your car insurance in Alberta
It pays to switch your car insurance to belairdirect!
Getting a car insurance quote in Alberta has never been easier
Call us today or apply online to get a quote and see how much you could save with belairdirect. It's quick, it's simple and it's absolutely free!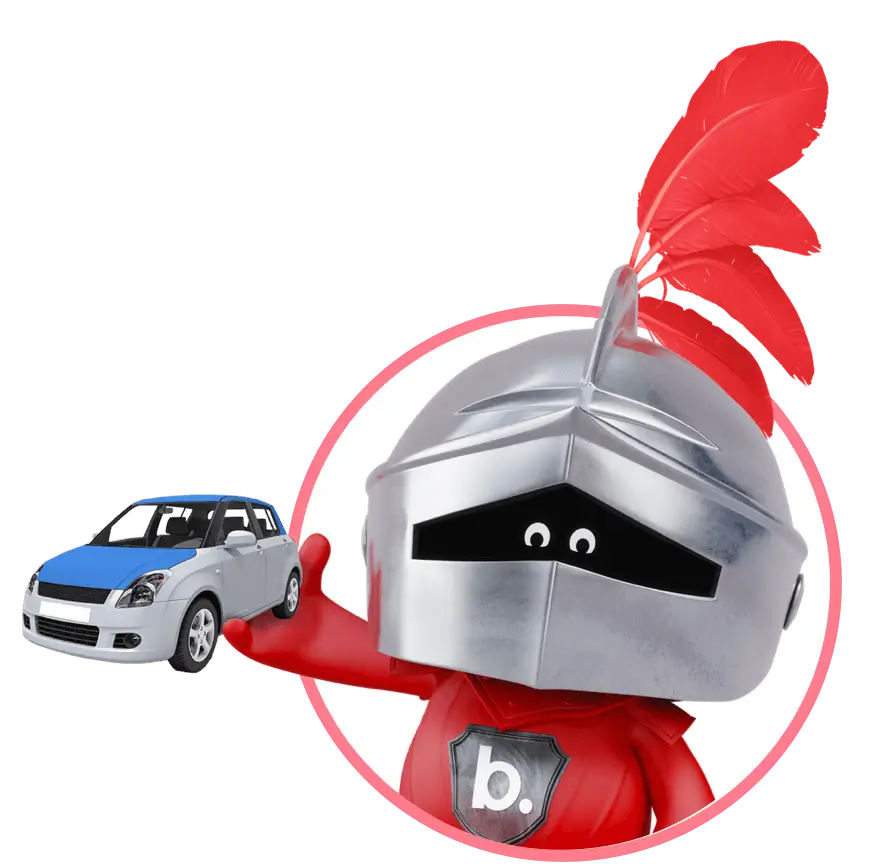 Your insurance pal for Alberta roads
Whether you're looking to stick to the basics or to level up your car insurance, you've come to the right place! On top of the mandatory car insurance coverages required to hit the road in Alberta, you can choose from our wide range of insurance options based on your car, lifestyle and budget.
Mandatory auto insurance coverages in Alberta
You are required by law to have Liability Coverage, Accident Benefits Coverage and Direct Compensation – Property Damage no matter what car you drive in Alberta.
Mandatory
Third party liability coverage
Pays for property damage or injuries to others when you cause an accident.
It covers:
legal fees and lawsuit settlements
property damage caused by your car
medical expenses of anyone you injured
Mandatory
Accident Benefits
Covers medical costs, rehabilitation costs and provides financial compensation for injury or death caused by an accident.
It covers:
medical and rehabilitation expenses that aren't covered by a provincial health plan
lost income if you can't work due to the accident
funeral, home care and grief counselling expenses
Mandatory
Direct Compensation Property Damage
Pays for damage to your car and the property inside it when someone else causes the accident.
It covers:
cost to repair or replace your car and any property inside it
rental car or transportation costs while your car is being repaired
Standard coverages in Alberta
Get additional protection for damage to your vehicle with these standard auto insurance coverage.
Optional coverages for Alberta drivers
Extend your auto insurance to match your driving style and your car with these optional add-ons.
Optional
Accident Forgiveness
Prevents the price of your insurance from going up as a direct result of your first at-fault accident.
Optional
belairdirect roadside assistance®
Provides 4 emergency services per membership year when you run into trouble on the road.
It covers:
towing (within 50 km from the breakdown location)
spare tire installation
locksmith services
gas delivery (up to 10 L)
removal of your car from a ditch
battery boost
Available in Canada and the United States only
Optional
Autocomfort®
Offers coverage options to expand your protection in case of an accident.
It covers
cost of a rental car after an accident involving your car
damage to a rented car
 
Available in Canada and the United States.Collision or upset and Comprehensive or Specified Perils, or All Perils coverages are required to be eligible for Autocomfort.
Optional
Replacement cost protection
Replaces your car with a new car with similar specifications, accessories and equipment, if the car is damaged beyond repair.
It's covers:
financial compensation or replacement of your car with a new car with similar specifications, accessories and equipment
What to expect
when driving in Alberta...
The Trans-Canada Highway
The Trans-Canada Highway will take you from Saskatchewan and allows you to see Banff, Medicine Hat, or connect to Route 22 and head north.
40 percent of trial time
Impaired driving prosecutions take up to 40 percent of trial time in Alberta's provincial court system. The provincial government has even taken steps to decriminalize impaired driving so that officers can simply suspend licenses and avoid clogging the court systems with so many cases.
The anti-icer
In 2017, the city of Edmonton began a pilot project where a calcium chloride solution was spread on roads before a snowfall. The anti-icer prevented the snow from sticking to the pavement and helped them stay cleaner for longer with less plowing and sanding.
Highway 63
Highway 63, which passes through Fort McMurray, carries more trucks with heavyweight loads than any other road of its size in Canada.
Impaired Driving Convictions
According to MADD, it is estimated that 8,600 people are convicted of impaired driving charges each year.
Drive in Alberta
In order to drive in Alberta, you must be at least 14 years of age to obtain your learner's permit (Class 7) which allows you to drive with a non-probationary driver over the age of 18. Once you have 1 year's experience, you can apply for the Probationary Driver's Licence (Class 5) after turning 16 years old
New drivers in Alberta
So you got your driver's licence? Congratulations. Learning to drive is a big milestone in any young person's life.
Being a new driver means you'll need insurance coverage to protect both yourself and those around you. Due to your lack of driving experience, your rates may be higher than a driver with more experience on the road. Statistically speaking, younger drivers between the ages of 20 to 24 are more often involved in accidents resulting in injury or death.
If you occasionally use your parent or guardian's car, consider applying as a secondary driver under their insurance policy. This will allow you to pay a smaller premium while allowing you to build up your driving record over time. However, if you use the vehicle regularly or even more than your parents, you will have to register as a primary driver.
Consult with your agent to see what the best solution for you is regarding coverage. to pay a smaller premium and let you to build up your driving record. However, if you use the car frequently you may need to apply as a primary driver on the vehicle's policy. Talk to your agent to find a coverage option that best fits your needs.
More questions about car insurance?
By law in Alberta, you must carry third-party liability coverage of at least $200,000, accident benefits coverage, and direct compensation for property damage coverage. In Alberta, driving without valid car insurance can cost you a fine between $2,875 and $10,000, and 45 days to 6 months in jail if you don't pay the fine. If you get into an accident without insurance, you could lose your licence and be required to pay for any damage caused to others.
You can make sure you get the cheapest coverage by comparing car insurance rates.
Here are a few tips to keep in mind when comparing auto insurance quotes:
Consider both the premium price and the coverage you get
Make sure you get a cheaper quote when you bundle your car and home insurance
Save money by insuring more than one vehicle
Make sure good drivers get rewarded with better rates with a program like automerit
It's important to never sacrifice value for price when searching for the cheapest car insurance rates.
If you need car insurance, we will be happy to help you find the coverage that works best for you.
In Alberta, your car insurance premiums are calculated based of multiple factors:
The car you drive (the type, make, model, year, trim)
Your driving history & record (number of years you've been driving, number of years you've been insured, accidents and tickets)
How much you drive (how often and how far you drive)
Where you live (urban areas, rural areas, etc.)
The type of coverage you chose (adding optional coverage affects your rate)
Ready to compare your current premium or get new car insurance coverage for Alberta?